Mother's Day Highlights:
Spending time with my beautiful girls
Treating myself to a McCafe
Mom and Dad's fantastic meal. Dad called me the other day and ASKED me what I would like to put in for an "order". I said a steak sounded good. He grilled me the yummiest fillet. That wasn't all though! Baked sweet potatoes, asparagus on the grill, salad, and mom's yummy Angel Food Cake with strawberries. It was delish!
Mom and Dad got us a porch swing. I told Rob to forget about housework getting done when the girls are napping. I will be found ON THE SWING, cuddled up with a book. Mom and Dad used to give me a hard time because during summers when I was a kid, I would read all day long on the porch swing. I can't wait to test it out. Just as soon as my darling husband gets it all put together. :o)
After lounging at Mom and Dad's, we headed over to my grandma's. Mom's mom. And there, I got the best Mother's Day present of the day...
THIS: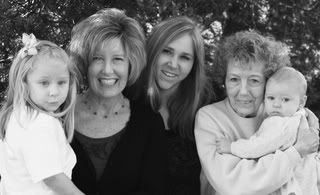 My precious girls (both EQUALLY UNphotogenic by the way It's a trait they inherited from their father's side I am told), my wonderful mom, my lovely grandmother, and myself.
I have been wanting this shot for a long time. For posterity's sake. Four generations of strong, beautiful ladies who have a infinite supply of love to share with the following generation.
Happy Mother's Day to all of you amazing mothers out there.
A Mother's Prayer
by Mary A. Loberg.
Help me dear Lord, as a mother, I pray
And bless these hands folded in prayer today;
May they be ever strong as they guide, as they teach,
Beings never too far for a child to reach.
May they never, with selfishness, try to dissuade,
Nor too quickly punish, nor too slowly aid.
May they point out the pleasures in laughter and song,
And may they show, wisely, the right from the wrong,
So that one day I'll know that I've helped all I can
To make her a woman, to make him a man.
Amen.