I've been MIA the past few days due to some big happenings.
1. Hubby passed his certs to become a firefighter. I am so proud of him. We HAD to celebrate. We went out ALL BY OURSELVES for the first time since Evelyn was born ELEVEN months ago! Billy Ann's was delish as always.
2. Garage Sales. Friday and Saturday are my bargain hunting days. Friday, my deal of the day were these cuties:
Emma Claire claimed the pink one IMMEDIATELY, so Evelyn was stuck with the green. Personally, I think Ev made out better.
Also got these beauties: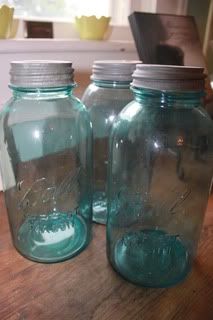 Perfect for my terrariums.
Here's a random tidbit. Ball Glass Works was located in Muncie, Indiana for 100 years before moving the company to Colorado a little over ten years ago. I live about 45 miles from Muncie. Who cares, right? Sorry, I got a little sidetracked.
Last but not least, one of these:
The Singer 1725. $10. No, I have NO clue how to use it. Yes, the instructions were included. And no, I don't live anywhere close to a Singer factory. But my in-laws do. About 50 miles from Singer HQ. Crazy, huh? :o) Again, no one cares, right?
3. Been busy getting some stuff around the house done.
To Do:
A. Compost Bin
B. Clothesline
C. Square Foot Garden (more details later)
D. Put up porch swing (Mother's Day gift)
E. Get that damn rabbit out of my house. Who in the heck thought that it would be a good idea to get a rabbit??? (Yes, it was mine.)
F. Get going on some landscaping
Thus far, the only thing crossed off of my list is letter "E". Hrmmm...By the way, did that last part of this blog remind anyone else of those stupid outlines you had to make in elementary school? And you wonder why I only have one thing marked off of this to do list. Dang adult ADD.
Okay, last note of interest:
The Bibliographic Book Blog is giving away an Ereader. Click
here
to enter!