Let Favorite Friday commence!
As I have said MULTIPLE times before, I have an addiction to books. Really any kind of books, but mainly children's books. When I was three or four, my Mom (bless her heart) set down EVERY night to read a stack of books. Yes, you heard me correctly. Not a couple, or even a few. A STACK. Needless to say, her hours of reading time and beaucoup bucks spent on library fines paid off. I hope to foster a love of reading in my own children as well. Ergo, my house looks like this:
(From our weekly trip to the library)
(The girls' books)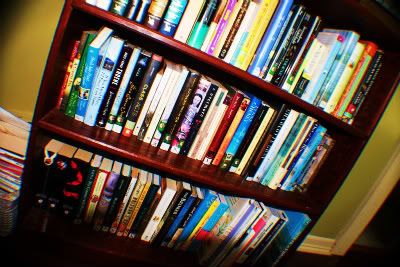 (My books)
(Hub's books. Now THAT is a manly stack of books. And all non-fiction. Blech.)
And at any time, Emma Claire can be found like this:
So all of this is leading up to my favorite thing for Favorite Friday. Really, it's not a thing at all, but a place.
Half Price Books.
As if having dirt cheap books weren't enough, Half Price Books is having a 20% off Memorial Day sale this weekend. EVERYTHING is 20% off!
These are my steals (all hard-backs):
My Almost Epic Summer
: $3.98
Brunettes Strike Back
: $4.78
Ol' Lady Grizelda
: $2.38
Naptime for Thaddeus
: $3.18
Pheobe and Chub
: $2.38
The Best Pet of All
: $4.78
A Camping Spree with Mr. Magee
: $3.18
Dumpy La Rue
: $3.18
Ms. McCaw Learns to Draw
: $3.18
Nine books for $32.12!!
Other reasons why Half Price Books made my PRESTIGIOUS Favorite Friday post:
• They support literacy with their
A,E,I,O, & YOU
program
• Their
Half Pint Library
Book Drive for local children in need
• They support the environment with their
Go Bagless
bag refusal program. The bags each cost only 98¢! And 10¢ of each bag sold goes to BecomeGreen.org Environmental Education Initiative, which goes toward the education of the public on various environmental topics. AND the store in itself is a way of recycling!
• If you are anything like me, you have TONS of books stashed away in boxes, totes, and chests. Half Priced Books gives you CASH for your books. Not check, not store credit. Cold, hard CASH!
• Last but not least, they offer the Feed Your Brain summer reading program for kids. Read (for ONLY 15 minutes a day!!!!! Gosh, how simple!!!), fill out the
log, print it out,
and return it weekly to receive a $3 Half Price Books gift card! It lasts nine weeks, so if you complete all nine, you could rack up an easy $27 per child! And we all know how many books that buys!
Go check out HPB this weekend for an awesome deal. And tell them you saw it on Peterson Place's Favorite Friday. Okay, don't do that. They won't know what the hell you are talking about. Oh gosh, I am amused at the thought of the extremely befuddled look on their faces. ♥
Reading Girl, 1850 by Franz Ebyl
"I would be most content if my children grew up to be the kind of people who think decorating consists mostly of building enough bookshelves." ~Anna Quindlen, "Enough Bookshelves," New York Times, 7 August 1991