It's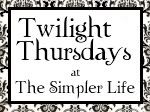 over at
The Simpler Life
and all of my friends should know that I am an unabashed twilight fan. I know, I know. How very 13 year old of me. Whatevs. Call it a guilty pleasure.
I am, and always will be, an Edward girl. Maybe it's because we are both members of the I'm So Pale I Sparkle in the Sun Club. Or it could be because cuddling with him would be like cuddling with a really hard cold pillow at night. Mmmm...Cold pillows....
I digress. I once asked my husband to take something up into the attic. The attic was blocked by...well, stuff. Needless to say, he had to crawl up and over, digging in and out of the mess to get to the base of the stairs. I say to Rob (who was currently grumbling and stumbling to get to the attic, "Edward would have been up there and back down by now." Wince. Oops. Did that actually slip out? His response? "Well, Edward can kiss my (insert expletive here)." So yes, I have compared my husband to Edward. But alas, it is not a secret affair. My husband is well aware of this fantasy love of mine. Hey, at least my fantasy is with a literary character and does not exist**, whereas the Victoria's Secret models are VERY real and are VERY half naked in EVERY commercial.
** Nota bene: The love affair I have is with EDWARD, not with R. Patt). Mostly.