As promised, I am posting some pictures of my adventures in gardening. Just recently, I decided that I was going to be the wife of my husband's dreams. This includes being Suzy Homemaker. ERGO, I am becoming a gardening, baking, cooking, and canning guru. It's a slow process, but I'm giving it my best shot. SO...I am not quite to the point of having a green thumb, but I suppose the chlorophyll may be seeping into my blood slowly, thus turning this particular phalanx a somewhat murky olive color. Don't ask me how I remember some of my 5th grade science vocabulary and college anatomy words, but can't keep track of my keys. Especially when I didn't exactly do outstanding in either course. Alas, I won't keep you in suspense any longer.
Here are some shots of my gardening escapades and projects!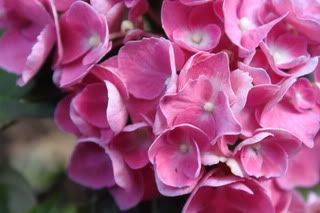 My hydrangeas. Beautiful. But not my favorite flower. I love poppies. Poppies are my favorite flower. Just a random "about me" fact.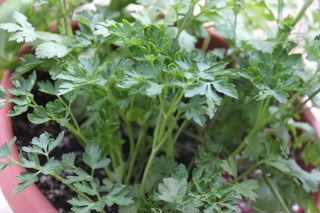 Fresh potted herbs. Cilantro, Italian parsley, and basil.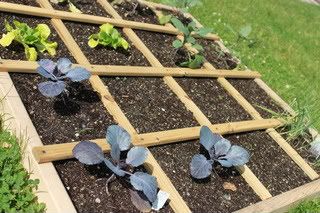 Shots of my square foot garden. If you are thinking about doing this, DO! I have not had to weed it yet, and it's been about three weeks since we put stuff in the dirt. Or compost, rather. I've got jalapenos, sweet peppers, cooking and canning tomatoes, beefsteak tomatoes, chives, radishes, broccoli, cabbage, cauliflower, green onions, red onions, and Vidalias. A couple of pumpkin plants and a few watermelon and cantaloupe (the running plants) are all planted up by the house in the flower beds. I like to mix my gardening in with the flowers. The cucumbers are in the flower beds along the other side of the house. The beans and the blackberry bushes are planted along the privacy fence.
These are shots of Emma Claire's planting season. She told me that she wanted to do it by herself, which translates to "go away", only much more polite! So I told her to fill the cups a little with rocks, then pile dirt, poke a finger in the dirt, plant the seed, and water. A lot for a little girl to remember. I just stepped back and watched it all happen. She didn't miss a step. Sure, by a horticulturist's perspective, there may have been too many rocks, the seed been planted too deeply, and then flooded till there should have been doves sent out to look for surviving life, but she did it PERFECTLY in my book.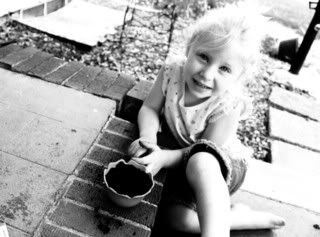 Time to water!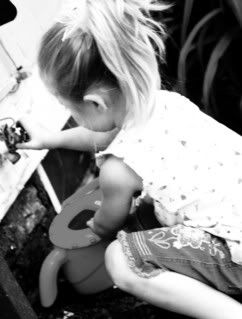 Success (in her book. Drowned in mine. Hey, whatevs.)
Our cheering section.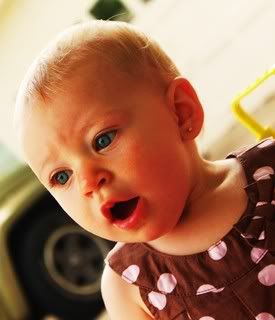 Had to sneak in a shot of what Emma does best. Hopscotch. Yes, I know there is no actual hopscotch. What can I say? She is an excellent pretender! I am sure less than 24 hours prior to that, the chalk version was there in reality.
Happy Tending,