If there is one thing I don't like, it is the clone tool. Don't get me wrong, it's handy as heck. But a pain in the NECK, it is! And TIME CONSUMING. Geez. Been messing with it for an hour!
Well, it's not perfect, and I BEG YOU, DO NOT TAKE TOO CLOSE OF A LOOK! Yes, it's shabby work, but you can't really tell the details. You just get the gist of what is going on. A hint. You are not supposed to know their secret conversation anyway! But I love this picture, and it was a spontaneous and precious moment for me. They were just having a BLAST. I didn't want to ruin it with, "Hold still! Mama's gotta move the carseat out of the photo frame!" We all know what Emma would do...Or if you don't you will. She RUNS! Fast!!! She is the WORST photo subject EVER. So when I do capture candids like these, I resort to the cloning tool. It would probably be easier if I was using Photoshop, like I hope to ONE DAY. But for now, I suppose www.paint.net will have to suffice. (It really is great for freeware.)
Before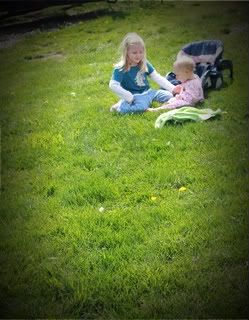 After
Now, you can just focus on the girls enjoying the summer's first rays of sunshine!
Linkin' up to
The Paper Mama's Photo Challenge